Here are photos of people living a nomadic lifestyle, either permanently or temporarily. They can be tents, trucks, boats, RV, or anything else. If you want to put your photos in here, just email them to us and include any captions you want to go with the photos. You can email us at: locustsonthehorizon@outlook.com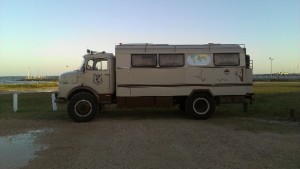 German owned, 1960's vintage Mercedes truck roaming around the world. Spotted on the Gulf Coast of Texas while on a tour of the USA.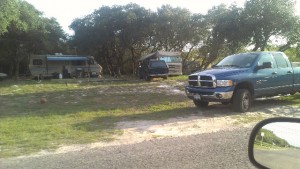 Here are a couple of RV's in Texas with young families in them, not retired folks. They are renting on the cheap a bare lot that used to have a house on it. With a bit of work they tapped into the sewer line and fitted a couple of RV dump connections. The property was also originally wired and plumbed for water and power utilities which they also fitted for RV hookups.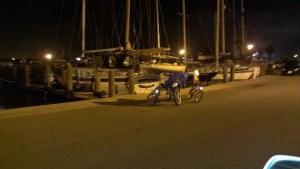 This is a 45 foot liveaboard sailboat from Hawaii that has been docked at a marina in Texas for a couple of years. The owners seem to like where they are at. Dock fees plus liveaboard fees also include all utilities plus free wi-fi, with a total cost out of pocket of about $450 per month. They get around town on a pair of bicycles and a small, 225cc dual sport motorcycle that gets excellent gas mileage. They carry the bicycles and the motorcycle on the boat when they travel.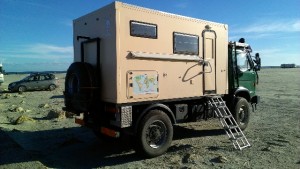 Here is another world roamer, this one from Holland. This rugged, all-terrain, four wheel drive MAN truck fitted out to be an RV was spotted camped next to the shipping channel in Port Aransas, Texas.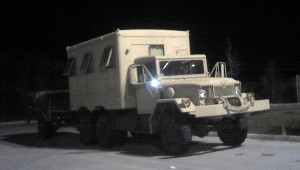 This is a US Army surplus 5 ton, six wheel drive truck originally fitted out to be a mobile communications center. Notice the original military, massive PTO engine driven winch on the front. It's also pulling a military surplus 1 ton cargo trailer. There is a rack on the back of the truck holding a bicycle. The owner converted the all-terrain truck into an RV and lives in it as he wanders around the country.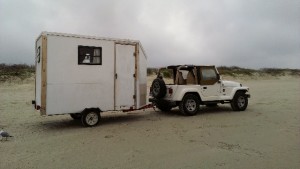 Living at the beach is cheap, at least on the Gulf Coast, and at the beach you see some of the more interesting rigs. This is a camper trailer which is entirely homemade. From the looks of some of the weathering around the door and rust on the hinges, it's been in use for a while.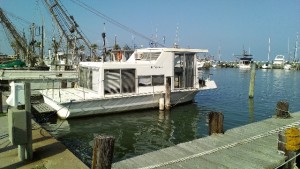 One of the more useful styles of mobility capable dwellings for the coast or rivers is a houseboat. This is a fairly small one, tied up next to an oyster boat, that is being lived in that has all of comforts of a decent RV trailer or motorhome. It also has the added plus of being able to fish comfortably right outside the door to your home. Coastal estuaries and river systems are some of the most food rich environments on Earth. These boats can have a surprising carrying capacity for supplies, and in case of bad times or troubles they can be taken to locations inaccessible to anything but other watercraft or a helicopter. Notice that there is also plenty of room on this one for a bicycle and/or a  motorcycle.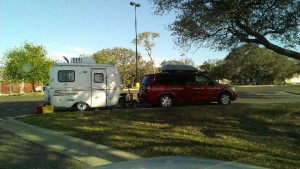 The Scamps are a small and light, but efficient little trailer suitable for a couple, especially if you do what they are doing and store everything in the van or in the cargo carrier on top of the van. This rig was spotted camped out under a shade tree in a Walmart parking lot.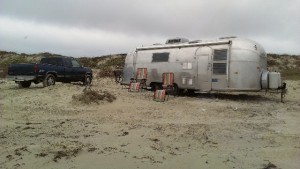 Here is an older Airstream RV trailer someone fixed up and is camped out comfortably at the beach. Older Airstreams are nice, and a fixer-upper can sometimes be had for a good price if you are handy with such things.
Here is a couple living in a wall tent in New Jersey in a tent city that turned into a de-facto, relatively well organized, semi-permanent squatter town in the forest. The inside of their wall tent shows how nice and comfortable a tent can be. With access to a truck or a trailer for a car, they can move everything rather rapidly if need be. Wall tents and military surplus tents are infinitely better for long term living than your typical nylon fabric pup tent used for overnight camping.